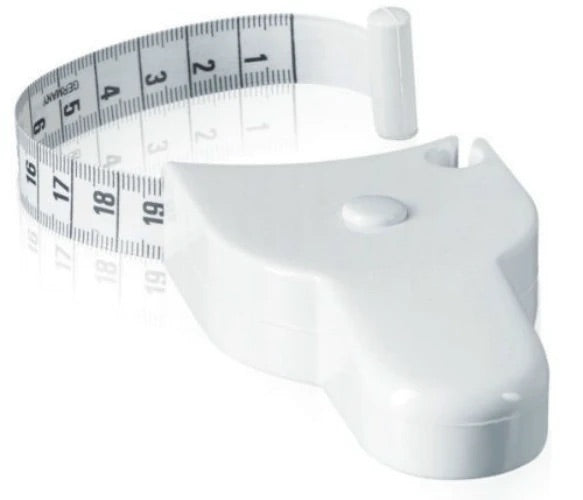 FIND YOUR PERFECT SIZE.
---
Low stock - 10 items left

Inventory on the way
SAVE TIME AND MONEY BY ELIMINATING THE UNCERTAINTY WHEN BUYING NEW CLOTHING ONLINE WITH THIS HANDY MEASUREMENT TOOL.
ORDER MEASUREMENT TOOL.
FIND YOUR MEASUREMENTS USING OUR GUIDE BELOW.
LOOKUP YOUR SIZE ON THE PRODUCT'S SIZE CHART.
USING THE MEASUREMENT TOOL
STEP 1.
Wearing a thin, tight garment, draw the retractable tape out of the case and encircle your waist or any other body part. (Note: the graduations on the outside of the Waist Tape do not start at zero. This is because the measurement includes the curved portion of the top of the case that fits against the body part. The inside graduations are for taking body length measurements.)
STEP 2.
Next, place the plastic peg attached to the end of the tape into the hole on the case.
Once the peg is inserted, press the button on top of the case to automatically cinch the tape snugly around your waist or body part. Because the spring tension is always the same, your measurements will always be accurate.
STEP 3.
Lastly, record your measurement reading, which is given by the number shown where the tape comes out of the case slot.
As noted previously, basic length measurements (such as height or arm length) can then be taken using the graduations on the inside of the tape (these graduations start at zero).